What our clients say
Words can NOT go close to saying what a "wonder woman" Gabbi is!! I am the "mother of the bride" ( Jenna's mum) and i have to say that with out Gabbi then Jenna and Shayne's wedding would not have been the success that it turned out to be.The setting was amazing and more beautiful than i could ever have hoped.I know it sounds like i am waxing lyrical here BUT i cannot recommend Gabbi and Event Avenue high enough. They all certainly went above and beyond!! They are wonderful to work with and nothing was too much trouble. Thank you Gabbi xxx
Dear Gabbi and Joe,
Thank you so much for all your support and amazing help in making Millie and Leigh's wedding so special. The draping and styling of the bridal table was absolutely beautiful. So many wonderful comments from guests on how outstanding the room looked. We can't thank you enough for your calm and patient personalities that made us feel so confident that everything would be fine. We will certainly be recommending you to any one and everyone we know that is having a wedding.
Enjoy the off season and love to Elke. I hope she has mastered the bike riding!
Warm regards,
Susie and David x
Can I just say what you did was absolutely perfect. Loved every part of it. As I walked out the doors at Quamby and saw the ceremony set up, it was breath taking. I loved it. The reception I did not see until we were announced that was fantastic too. It was more than what I imagined. So many of my guests were blown away by it all too. Thank you so much for always being prompt with your responses. Thank you for everything I asked of you at short notice. Your service is outstanding. Thank you so much.
The team here are ecstatic with all the work you have done here at Grand Chancellor this year. We all  look forward to working with you next year.
Thanks to you and your team last night. The theming looked fabulous and all guests had a brilliant time Casino Royale style. Will be in touch for the next gig in Tassy!
Just wanted to send a quick email before we head off on our honeymoon. Thank you for doing such a wonderful job on the decorations for our reception. The guests the set up and commented on how lovely the room looked. You were so easy to deal with in the lead up to and your experience in knowing the venue was invaluable. We had such a wonderful, relaxing day.It was absolutely fantastic – we cannot thank you enough!
THANKYOU SO MUCH! Wow, we are absolutely lost for words. I cannot express my sincere thanks to you and your team. How you transformed the barn, courtyard and ceremony venue was simply amazing. It was so beautiful and more perfect than I ever imagined.  Our day was perfect in every way, even the weather was amazing for us!! Thankyou so much again. I cannot speak more highly of you and can't wait for some of my friends to get engaged so I can recommend you 🙂
We all had a fantastic night!  Everyone was very impressed with the decorations and has been raving about it all since.
Organising a themed gala dinner within 3 weeks for our client was made so much easier with Event Avenue. Gabbi produced an outstanding proposal for me within 2 days and it included so many original and innovative ideas. The setup went effortlessly and nothing was too much trouble for their team despite my need for many last minute changes. Needless to say the client was blown away and I would highly recommend Event Avenue.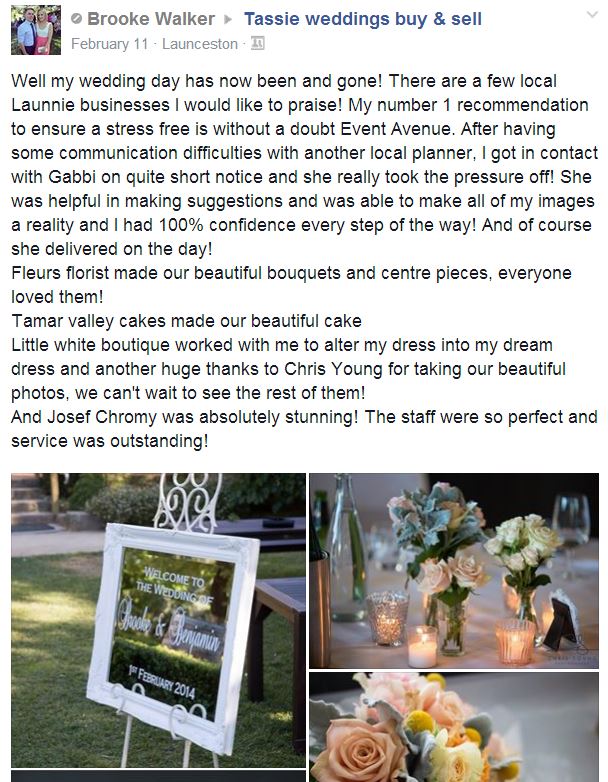 Thanks so much for all your help with the ANZAP dinner -the venue looked stunning!!
Thank you so much for you hard work over the last 8 months – It was fantastic.
It was a 10/10 for us!! You were all so professional and the food and decor was amazing.
Thank you for all your help on the day. I know we went very simple in terms of decorations, but never the less – we thought it looked wonderful and your team were so professional in every way as well as you answering all my queries in the lead up to! Thank you again
Thank you so much for everything you did for Kyle and I, you created a fairytale wedding i couldn't have wished for a better day it was perfect! Xxx
You did a flipping amazing job! We could not be happier! Thankyou so much again for everything you did, people couldn't stop taking about the decorations! Thanks again Gabbi, I am going to recommend you to anyone and everyone!
Hi Gabbi! How are you? Andrew and I finally got home from our honeymoon yesterday and this is the first chance I have had to jump on to Facebook! I just wanted to thank you for turning my dream fairytale wedding into a reality. Andrew, myself and our families and guests were absolutely blown away by the enchantment you created for our garden ceremony, and not to mention the beautiful room you created to make our dream come true. We cannot thank you enough for the months of work you and your team put in to make it all happen. We are just so happy and thankful for everything you did for us and for making our dream wedding come true. There are some pics of the room and bridal table on my wall and if you would like copies of anything, please let me know. Thank you so much again Gabbi and all the team at Event Avenue for everything you did for us ♥ xox
Hi Gabbi!! We would like to thank you and your Event Avenue team for your amazing work at our wedding at The Boathouse at the weekend!! From the initial contact you were a pleasure to deal with!! Your creativeness and attention to detail was amazing!! You took all of the stress out of our big day and the reception looked amazing!! We highly recommend your services to any future brides!! Thankyou again Candice and Jerome
You understood my vision and brought it to life in the most perfect way. We cannot thank you enough. Your professionalism and the friendliness of the whole team at Event Avenue is a class above all others! We cannot recommend you more highly.
Thankyou so much Gabbi and all employees of event avenue everything was perfect and every detail in place! Thanks for being their to open the boom gate for me!!!! It was so lovely to see you there on my special day! 🙂
Great thanks very much Joe, and thanks again for all your work on the day, you guys did an amazing transformation.
Thanks so much!! The set up was even better than I anticipated – you did a fantastic job! The ceremony set up blew me away when I got out of the car 🙂 
Thanks again! You will definitely be referred to all my friends for decorating/wedding planning when it's their turn to get married!!
Beautiful job Event Avenue. Made things so much easier for the Committee. Looked amazing. Feedback was wonderful. People really appreciated it and heard lots of "Wow". Xx
Thank you Gabbi & the team at Events Avenue for the amazingly beautiful set-up you did for us at Quamby Estate for Courtney & Justin's wedding on Saturday, it was stunning and everyone loved it, just perfect 🙂
I had the best weekend ever. You did an amazing job and I was so so so happy with everything you did.  Everything looked exactly how I imagined it and I couldn't have asked for more.
Love what Event Avenue did for the Tailrace's Wedding Taste and See event. awesome work girls. A big thank you.
Hi to you all. Cameron and I would just like to thank you all so much for all your hard work over the weekend. It made our day so special and so beautiful. Keep doing what you are doing it is truly amazing 🙂
Peter and I will be singing your praises to all we meet! You and your team were wonderful; your staff on the day were very friendly and were excited about the setting up. Can't thank you enough, it was beautiful!!
Event Avenue were wonderful. x
It was an absolute pleasure working with Event Avenue to plan my wedding. Gabbi was extremely professional and went above and beyond my expectations in sourcing materials, responding to queries, coordinating suppliers and attending to every detail. She instantly understood my vision and worked tirelessly to achieve it. Thanks to her, the planning of my wedding was far less stressful and complicated, leaving more time for the fun things. On the day, everyone was wowed by her work and I couldn't have been happier with how everything looked. I am very grateful to Gabbi and her team and would wholeheartedly recommend her to anyone looking to organise the perfect event.